For the love of food, the land and the vines
The food we serve in our bar and restaurant is simple, honest and delicious with all ingredients sourced with care.
Seasonality is what drives and inspires the menu, consisting of what is available at the time from our farmers and providores.
The beverages on offer are chosen from wineries and cellars that have the same ethos and values as we do.
The very best meals start with the very best ingredients. This rule is something we abide by at Butcher and the Farmer and you will truly be able to taste the difference. We believe in using only the best produce and seasonal ingredients, so you know that every mouthful is sourced and prepared with care.
Our chef has crafted an exceptional menu of share plates designed to be passed around to everyone at the table, impressing every taste bud they touch along the way.
Butcher and the Farmer's latest news, events and specials.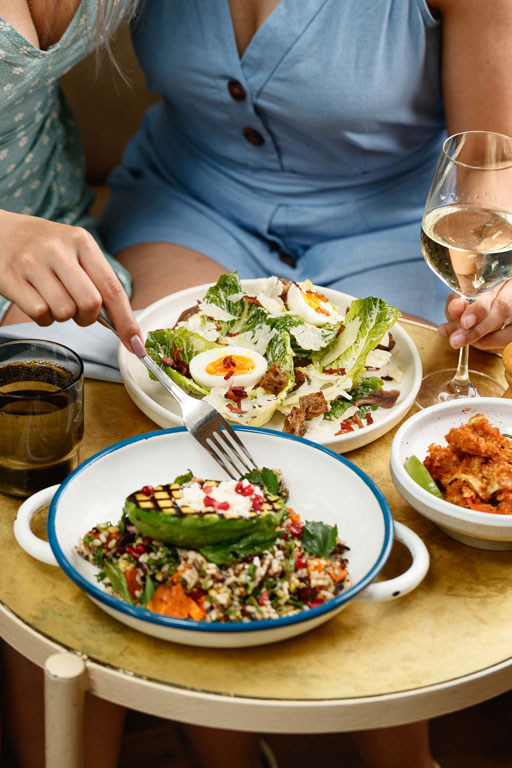 Plates made with care, to share
Sharing a meal, even when everyone orders different dishes, brings people together. We take it a step further by encouraging you to truly share a meal by tasting multiple dishes each, giving you a chance to sample more of Butcher and the Farmer's the best steak house dishes in Sydney.
And this is not an ordinary bar restaurant or café, and these are not basic meat and vegetable dishes, either. Our menu changes regularly, but you'll always find a vast array of textures, ingredients, and flavours, that are sure to leave you coming back for more.
On the other hand, Butcher and the Farmer drinks are not designed to be shared. Instead, you'll have a vast range of options, from beers on tap to stylish cocktails, and housemade sodas to smoothies. Our beer and wine lists are perfect for after-work tipples.
Come in for breakfast, lunch, or dinner at our burger bar restaurant glebe or stay comfortable at home and order a delivery right to your doorstep.