Available on weekends and public holidays from 9 - 11.30am. When you start with a weekend breakfast in Sydney at Butcher and the Farmer, you know the day is going to be a good one.
Join us Saturday and Sunday from 9am to fuel up for the day on all your favourite classic breakfast dishes, created with a twist to add that special little something that will have you looking forward to your next dining experience before you even finish your first bite.
Butter, your choice of jam, Vegemite or peanut butter

SMASHED PEA + AVOCADO HUMMUS (V)

17

Toasted sourdough, feta, pomegranate, basil, EVOO

Sonoma bun, smoky aïoli, maple smoked bacon, egg, hash brown, caramelised onion

PORK BELLY + CURRIED SCRAMBLED EGGS

25

Slow braised pork belly, curried scrambled eggs, Sonoma miche, mustard hollandaise, with a drizzle of chilli oil

Fino chorizo, maple smoked bacon, eggs your way, field mushrooms

Eggs your way, field mushrooms, hollandaise

Eggplant, zucchini, picante, baked eggs, feta, toasted sourdough
Add Chorizo +6

Two eggs served with toasted sourdough

Maple smoked bacon, toasted sourdough

Vanilla bean ice-cream, chocolate sauce
Fried Egg (V), Poached Egg (V), Gluten Free Bread (V)

3

Hash Brown (V), Mushroom (V), Half Avocado (V), Tomato (V)

4

Maple Smoked Bacon, Sausage, Chorizo

6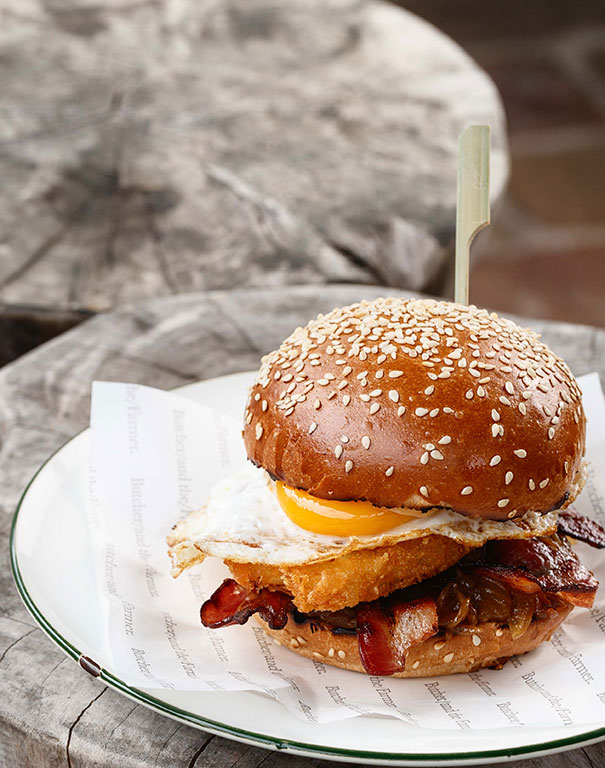 The breakfast menu at Butcher and the Farmer
You'll recognise every dish on our breakfast menu, but you'll also recognise the difference that comes with a passion for masterfully prepared meals from some of Sydney's best chefs and seasonal, fresh ingredients.
A simple scrambled egg dish becomes scrambled eggs with warmed brioche and truffle pecorino, and a healthy granola bowl becomes a sensation for the tastebuds with fig and honey, sour cherries, coconut, kiwifruit, and macadamia.
Even the most classic Australian breakfast – vegemite on toast – is served with delectable sourdough.
You can also browse our optional extras menu to add your own tasty twist to our already tasty morning treat.
Butcher and the Farmer Tramsheds
Butcher and the Farmer offers one of the best breakfasts in Sydney.
Visit us for a Tramsheds breakfast Saturday and Sunday in our original location in Glebe, where you can dine in this beautiful refurbished tram station, then head to the Glebe markets nearby to while away the day.
Make a booking at our Tramsheds Butcher and the Farmer breakfast restaurant in Sydney to start your day the right way, no matter which side of the bed you woke up on.